by Steve
The owner doesn't do or say anything, check. The loser general manager continues to keep his job seemingly as long as he'd like (16+ years), check. That same GM says there will be more pain and losing, check. The team retains a nobody with barely a pulse as their head coach, check. Raise the season ticket price despite having a billionaire owner and a losing product, check. A recipe for a 97% single ticket renewal rate?!?!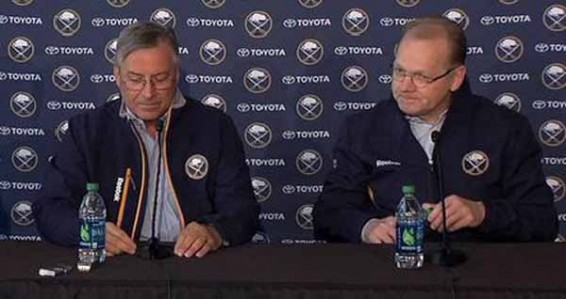 No wonder Thomas Vanek and Ryan Miller haven't been traded, the team has very little talent and no chance of being good this year. They don't have to be good or even try to be competitive now or in the future. The fuckin fans continue to buy this bullshit product as quickly as possible regardless of cost.
How the hell is it possible that 97% of Sabres fans renewed their season tickets? The Terry Pegula era has been an abject failure in every single aspect. The team has been worse, the talent level is lower, the outlook isn't any better and the general manager continues on in perpetuity. What am I missing?
The tickets now cost more than ever, there is little to no chance of making the playoffs (which is basically the only reason to have season tickets other than to maybe have a bunch of easy birthday gifts to give out) and the guys in charge are clueless. Maybe it is the new division they are in with Detroit? The cheapest season tickets (a pair in the corner 300s) would cost $2,204 and for the worst 100 level pair it would be $3546. Either Western New York has a lot more millionaires than I previously thought or the economic failure of the region has been greatly exaggerated by every news source in the world.
I truly just do not understand. (not to mention the 2500 people allegedly paying to wait on a waiting list for season tickets [holy shit]). Simply mind boggling. On the bright side Darc doesn't have to find a realtor to try and sell his house for another 17 years.