by Steve
Lets face it, everyone is already counting out the 2009 Buffalo Bills. From ownership to the coach to the quarterback to the offensive coordinator on down there are few if any legit reasons to be positive. I call bullshit. Here are ten reasons to be positive about the 2009 Buffalo Bills.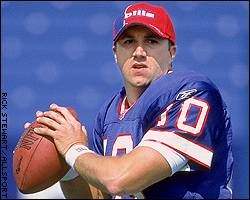 10. AVP
Sure Alex Van Pelt was a marginal NFL player. And yes he has little experience calling plays and none as a coordinator in the NFL. But what great coordinators or coaches were great players? Just because he wasn't great doesn't mean he can't be a good o-coord. Plus at least he isn't Turk Schonert or Steve Fairchild.
9. Dick Jauron
No not because he is the coach but because at least he gives us a quote of the day nearly every single day. His mind numbing press conferences and ridiculously stupid answers to seemingly mundane and simple questions is great fodder for ridicule.
8. Special Teams
The only unit that is actually good and in recent history has actually been great. Under the tutelage of Bob April the '09 unit seems poised for another solid campaign.
7. Aaron Maybin
This young potential stud is averaging a sack a game and seems poised to contribute this season. Granted the preseason isn't exactly the best litmus test for future productivity but he was taken 12th overall for a reason. Doubt he contributes right away because the number of snaps he sees will be limited. However, with bums like Kelsenney in front of him its hard to imagine him not usurping those scumbags by the bye week at the latest.
6. Trent Edwards
True he had one of the worst preseasons for a Bills quarterback in quite some time but for those that don't realize, those games don't count. He is still young and has the tools to get the job done. A lucky bounce here or there could cause a complete reversal in his lack of confidence. And he doesn't have Turk chirpin in his headset on 3rd and 8 any more.
5. Leodis McKelvin
The guy started to show more than a few signs of his skill level as the season wound down last season. With a play makers mind set both on defense and special teams, the sky is the limit.
4. Marshawn Lynch
Throw all the off the field issues out the window on Sundays. Oh, and the three game suspension. All the guy has done in the league is run for 1,000+ yards in his first two years behind an average at best o-line and no threat of a passing game, and a probowl appearance. See ya week four holmes.
3. Terrell "T.O." Owens
ESPN and the media in general are obsessed with him, he is still a playmaker and he hasn't even played a game in Buffalo yet. Either he explodes and piles up big numbers and improves the offense immediately or he implodes and gets Jauron fired. (True there are other options but this is a positive post)
2. Back at the Ralph
One of the 7 best days of the entire year. Going back to Ralph Wilson Stadium for a Bills game is rarely matched on the other 358 days on the calendar. Where else do you wake up at 8am start drinking with 75,000 other people and party all day?
1. It's the NFL
Anything can happen. Who saw the 2008 cardinals as a superbowl contender? Who thought rapelisraper would win yet another championship while playing like shit? How did the Dolphins win 11 games last year.
Your 2009 Buffalo Bills, at least they're in the NFL.