by Steve
The Reds are still in major league baseball? Holy cow, when was the last time this franchise was relevant? True they have junior Griffey and Adam Dunn smacks dingers but who else plays for this team? You're about to get a crash course. And things are actually looking up in southwest Ohio.
Infield
The savior that is Joey Votto is looking to start firstbase for the Reds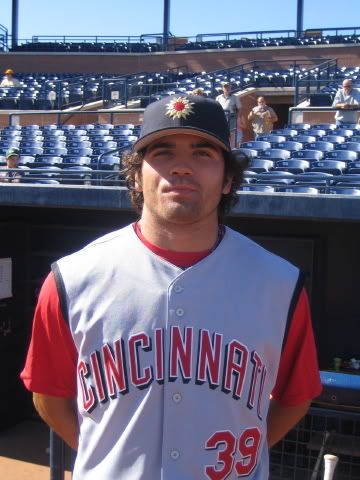 this April. He is a highly touted prospect who in only a few ab's impressed in 2007. Here's hoping he wasn't just a flash in the pan, at least for Reds fans. What a steal Brandon Phillips was at second base. Mark Shapiro is an idiot, and losing this all star second baseman may hang over Shapiro for a long time. So wait, Alex Gonzalez
can
actually produce some offense? It wasn't just the gold glove caliber defense from Gonzalez, the former Red Sox starting SS, that turned some heads in 07, he actually hit 16 dingers and 55 rbi's. Juicccce? There is quite the cluster at 3b for Cinci, but for now Edwin Encarnacion is starting ahead of Ryan Freel and Jeff Keppinger. You know as much about Encarnacion as I do. He just turned 25 and must have hid pretty well in obscurity last year hitting for average and power while getting a hefty 502 at bats. Solid infield.
Outfield
Will the real starting centerfielder please stand up? Norris Hopper just got his name pulled out of the hopper on their website's depth chart while ESPN has Corey Patterson starting. Looks like it will be a competition through April. Neither is much of a catch in center so I guess it doesn't matter much. KGJ is a year older in right and when he's healthy he is still effective. Adam Dunn has hit exactly 40 home runs in each of the past three seasons, amazing. Plus he got his average up to .268 last year. Is he becoming more of a well rounded hitter or poised for a jump to the AL as a DH any day now. Eh
Pitching
Homer Bailey, Johnny Cueto, and Edinson Volquez in the rotation the first week?! Bonnnnner! These three are all potential studs and could solidify this rotation for the next decade. They may need to pull the plug on Belisle if two or more of these young arms take over a spot in the rotation early. They signed Josh Fogg which isn't a bad thing especially with a group of young pitchers plus the Reds have Bronson Arroyo as their #2. And of course, one of the more underrated pitchers in the bigs, strike out master, Aaron Harang is holding down the title as ace.
Prognostication
I have no idea who Jerod Benter is but he might be inheriting a team that will be on the rise. They have some young players with upside on the infield and a plethora of young arms with skills. If they catch lightning in a bottle with the kids and the NL Central has another embarrassing 2008 you never know who will win this division. One thing is for sure, they should be fun to watch at the ballpark, especially when the kids take over in August.
Record 78-84