by Steve
The more I look at this squad, the more sick I feel. The pitching staff is potentially top notch, but a look up and down the roster is a mix of depression and disgust. Bruce Bochy may be in over his head with this roster, he is a good manager but a carpenter can't make a house with only nails and no wood, or whatever carpenters make. The Giants haven't finished above .500 since 2004 and look to continue that streak in 2008. At least Bonds is gone.
Outfield
Randy Winn had a productive 2007 in right field for the Giants but is no answer to any teams needs at the top of a line up. Aaron Rowand is a solid centerfielder fresh from signing a $60 million deal. He, I guess, will have to be the focal point of the offense in 2008. He is already 30 but coming off a gold glove campaign with the Phillies, so he has that going for him. The speedster Dave Roberts is starting in left. He is a good leadoff man and a bit over rated but won't be dropping many jaws in the Bay area any time soon.
Infield
If there is a bigger travesty of an infield in Major League Baseball right now I am unaware of it. Every position is filled tentatively with question marks abound and few answers. Ray Durham a gritty veteran is penciled in at second but at age 36 is well past his prime. Not that it matters much since he is injured along with Kevin Frandsen and the ancient Omar Vizquel. Even starting first baseman Rich Aurilia is 36. Who has been drafting and developing players for this organization? The average age is somewhere near 35 for this despicable infield and quite frankly I'm sick of talking about them.
Pitching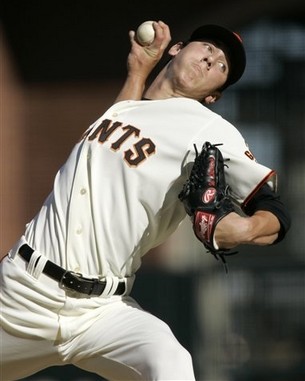 Finally, that look of scorn can come off my face. Tim Lincecum is the real deal, Matt Cain, even with a record resembling that of a cast off from the independent league in 2007 had one of the top ERAs in the bigs. Barry Zito along with the rest of the "Big 3" from Oakland seems to be a bit of a bust. I'm certainly not yet willing to give up on him but he needs to bounce back in a major way to justify that gross contract he got in the winter of '06. Solid lefty Noah Lowry is a number 4 pitcher in a young and extremely promising rotation. With no real #5, young arms Kevin Correia and Johnathan Sanchez should be able to fill in when needed. With little to no run support, the record and for that matter ERA for all of these dudes is going to be much worse than their skill levels.
Prognostication
Who ever owns the Giants may want to head in a different direction and fire Brian Sabean sooner than later. The scouting department might as well be blown up as well. I will grant you they can scout and groom pitchers about as well as anyone but where are the position players? A trade needs to be swung to bring in somebody, anybody. There is clearly a wealth of pitching prospects, why not trade some for a 5 tool infielder somewhere? I thought this was a pitching hungry league? Bring up right fielder Nate Schierholtz please.
record: 71-93