Marcus Stroud 6'6 306 29 years old
from espn.com
"Stroud is a seven-year veteran out of Georgia that was drafted by the Jaguars in the first round of the 2001 draft. He has been extremely durable until last season when he missed five games with an ankle injury. He is a massive defensive lineman that has unusual quickness and agility for such a big guy. He can be disruptive with his quickness from the inside, penetrating gaps and wreaking havoc in the backfield. He has the size and strength to play two gap defense, keeping blockers off his playmaking linebackers. He shows good lateral range and works hard to make plays all over the field. He has good hand use and can defeat and shed blockers in time to make the play when they run right at him. He has a good feel for blocking schemes and rarely gets surprised by a block coming from the side. Due to his size he struggles at times keeping his pad level down but still plays with natural leverage. He could be more consistent on the field as he has a tendency to take a play off now and then. While it would be difficult to call him a finesse player he could be a bit more physical at times. He is a Quality player with all star potential but needs to show it more often."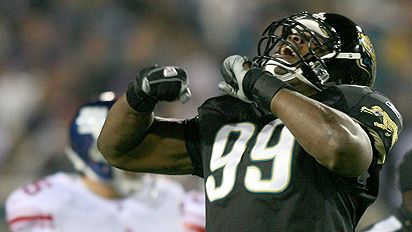 The Bills traded a 3rd and a 5th, of which they had an extra of each for the 2008 draft. Evidently the contract was front loaded from what he originally had but the numbers remain the same at 3 years and $16.5 million. OBD ballin
Other rumors of the day are that Bryant Johnson and Ben Troupe are in down and will be visiting with Bills brass
Sunday
. Also the Bills did contact Javon Walker's agent, granted they were one of 11. WR first round?!?