by Steve
Did he look good? no. But did he look completely lost ? no.
I thought he got the ball outside the numbers better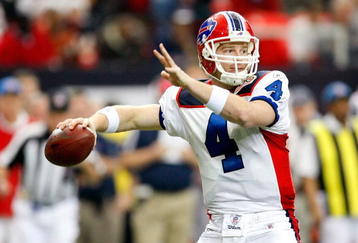 than our two previous QBs. Lee Evans was involved in the passing game for a change also. Brohm held the ball too long and didn't have much pocket presence but that is to be expected. He missed on the two long balls to Owens but at least he didn't short arm them.
With this coaching staff and offensive line it is near impossible to give this guy a fair shake either way. This coming week's game against the Colts likely will not give us much more information about Brohm since it will be all reserves but it should be cold and snowy and that will give us a bit of an indication as to how he reacts to our elements.
I'd be willing to invite him in for an open competition next year with a rookie and a journeyman although I'd prefer Vick. It is just way to early to throw this guy into the garbage heap after one game with that personnel around him.